PRINCIPLE
The electrically conductive liquids versatile management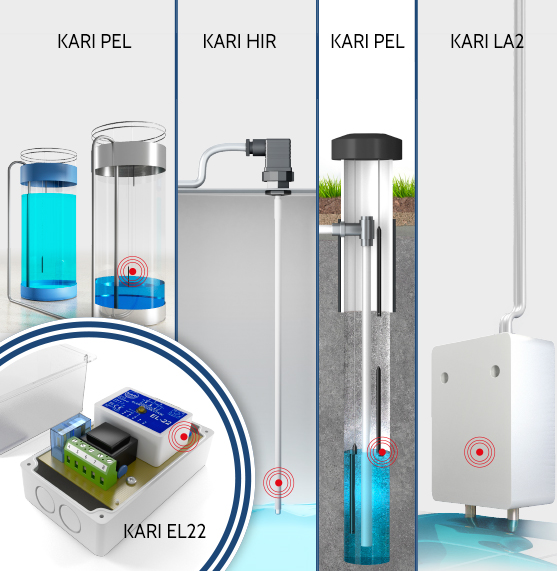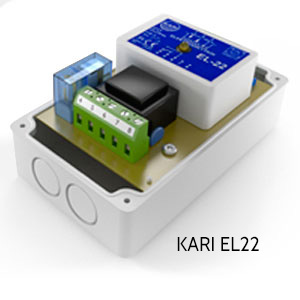 KARI-accurate sensors measure less than a centimeter
Kari-Finn offers high precision measuring sensors for monitoring and control of conductive liquids. Antureistamme has the right solution to the interior of the property as wells and tanks. All the central unit operates with sensors KARI EL22 -elektrodikytkin, which allows for versatile use. The upper and lower limit alarms in addition they can be used even if the pump start and stop levels determine the desired nestekorkeuksilta.
The central KARI EL22 -elektrodikytkin
Sensors CPU KARI EL22 has been approved by SGS Fimko's very accurate control and monitoring device that allows the sensors operating levels can be set up less than a centimeter.
Adjustable electrical conductivity of the fluid
The system operating range is quite wide because of its sensitivity can be adjusted to match the electrical conductivity of the fluid. depending on the sensor selection, KARI EL22 is suitable for a variety of uses, for example:
prevention of deep well pumps running dry

filling and draining pumps control

motor and solenoid control valves

above or alarajahälyttäjäksi

dosing

Room facilities tulvavahdiksi.
Safe and secure
The measurement takes place in a safe voltage (SELV / PELV). KARI EL22 is the difference between the feed stream is made of a short circuit in a sustainable, transformer protection by the housing and secured with a solution that does not cause a dangerous situation, even if the wire comes off. We will make every KARI EL 22 central unit a complete functional test before delivery.
Electrodes according to intended use
KARI EL22's typical sensor connections are dependent on the signal cable will depend on the PEL porakaivoelektrodit and with the tank through the export of HIR-tankoelektrodit.