Talyvel 6 Electronic Levels - Wireless
Taylor Hobson's Talyvel Electronic Level systems provide versatile and precise measurement of angle, level, flatness and straightness. The Talyvel 6 uses a pendulum transducer and interfaces directly to a touchscreen computer to combine exceptionally high accuracy, stability and repeatability with fast response and operational convenience.
Applications include straightness measurement of machine tool guide ways, flatness of surface tables or absolute level of structural supports, Talyvel 6 can also function as a comparator to detect departures from a preset level and non level attitude.

Optional Differential system for comparative measurement

Wireless dongle option with a range of up to 10 metres

High stable pendulum transducers with quick adjustment to gravity or absolute level

High resolution and accuracy of 0.2 secs over central range

Reading in arc seconds or gradient

Software in various languages including Japanese and Chinese
TB100 Precision Microptic Clinometer
These Microptic clinometers have been designed for simplicity and very high accuracy allowing setting and measurement of fixtures, angle plates etc.The systems use a precisely divided glass scale mounted on a spindle located on a high precision bearing.
At the end of the spindle is a sensitive bubble vial that provides the horizontal reference the TB100 operates over a full 360 degree range as well as capability of use in vertical or horizontal modes as a circular measuring table, features include;

Full 360 degree measurement range

Direct reading to 10 arc secs

Estimation to within 2 arc seconds

Hardened ground steel base

Circular and sub division micrometer scales for sensitive reading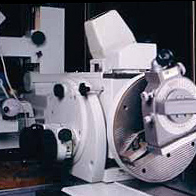 Digital Inclinometer
The Digital Inclinometer is a robustly constructed instrument designed for clear simple reading, the system is ideal where precision angle is required over a large range.
All four quadrants of the system are precision machined making it possible to measure angle from any side.
The system has the ability to work from absolute or relative modes through a simple push button operation.
The battery power, sturdy design and compact construction make it ideal for almost any situation, features include;

Built in calibration program ensuring measurement integrity

Direct reading to 4 arc secs

Accuracy to 2 minutes of arc

Large measurement range +/- 45 degrees