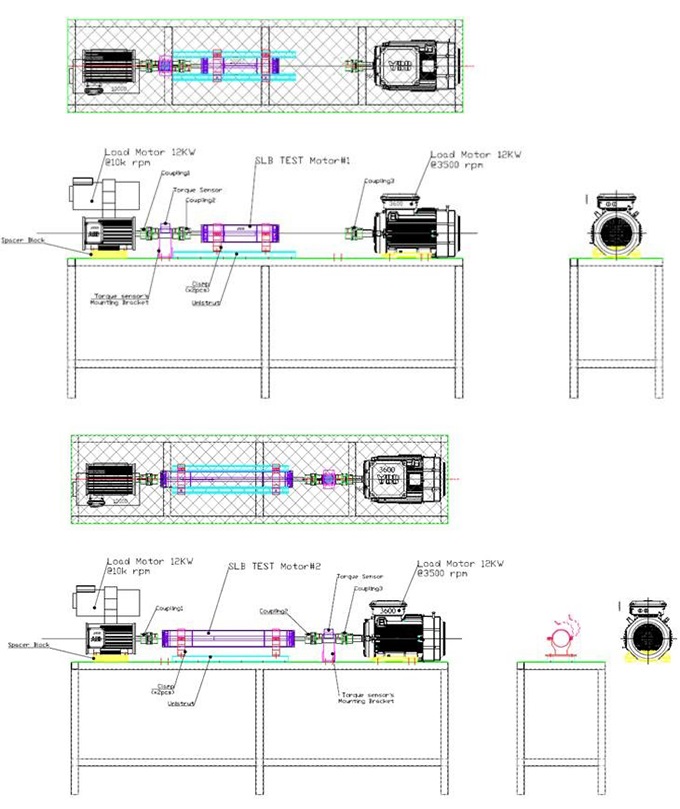 High Speed Permanent Magnet Motor Testbed
APPLICATION: When one of the market leading motor manufacturer approached Scigate Automation to build a motor testbed for them, especially for beta-testing of their newly developed permanent magnet (PPM) motor in Singapore, to be tested at 0-10,000 rpm. Torque profiling, Speed profiling and Load profiling of the said motor is crucial. Data logging, Efficiency testing of motor, Motoring of motor temperature in accordance with duty cycles are non-negligible too.
The most challenging part is to do full load test by coupling of same capacity motor to produce a counter force to determine the motor rated torque at several speeds.
Customers are also required to have remote monitoring, remote controlling, adjustable motor mounting to test several sizes of motors and lastly, very high accuracy alignment is required between motor shaft to another to withstand 10,000 rpm speed.
SOLUTION: Here is the some of the major components that we have integrated into our motor testbed: High performance closed loop AC drives, industrial PC, data logger, motor testing software, torque sensors, current transformers, voltage cords and power meter to measure inverter's PWM output.
We are proud to announce that we have managed to put the biggest smile on our customers' face by providing a comprehensive test system that delivers above all aspects of our customers' requirements.