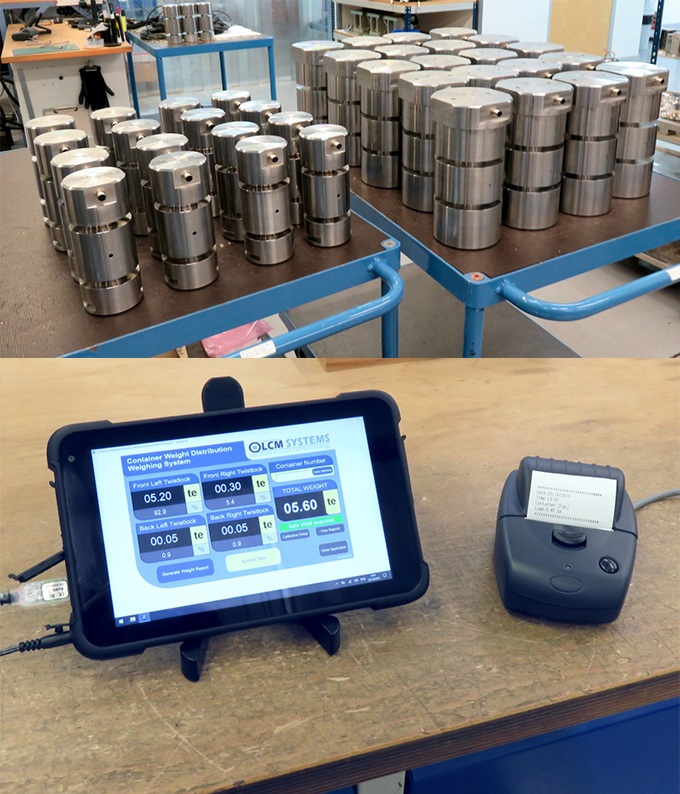 RTG Container Weighing System
APPLICATION: Factory provided load pins for 10 RTG container weighing systems for a port in Africa. The systems consist of 20 x 15 tonne load pins, 20 x 13 tonne load pins, connection packs and interface modules that contain four DSC high performance digital signal units (one for each load pin) to covert the mV/V output of the load pin into an RS485 signal.
Also included are rugged 8" tablets which display the load on each twistlock and the percentage of the total weight it is carrying, as well as the combined weight on all 4 twistlocks. Each system also has a VGM printer that will provide a ticket showing date/time, container number and total weight.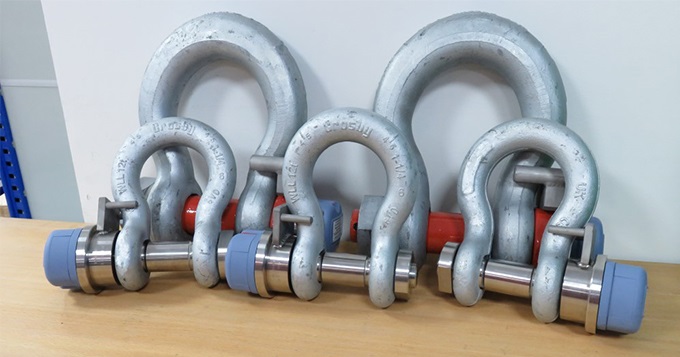 Boat Lifting Crane
APPLICATION: With a lead time of just 2 days from receipt of order, these 12te and 17te wireless load shackles are currently were sent to New Zealand to a shipyard where they will be used on a boat lift crane to monitor lifting loads and ensure weight is evenly distributed throughout the lift.
This particular customer has purchased a number of these load shackles over the last few years and are expanding their stock to enable them to instrument more of their cranes. Short delivery times form a significant part of their purchasing decision, and knowing that LCM holds these products in stock for immediate despatch is certainly one of the reasons they are a preferred supplier.
Load shackle range available ex-stock starts at 3.25 tonnes and goes up to 120 tonnes. Higher rated capacities are also available, but on a slightly longer lead time.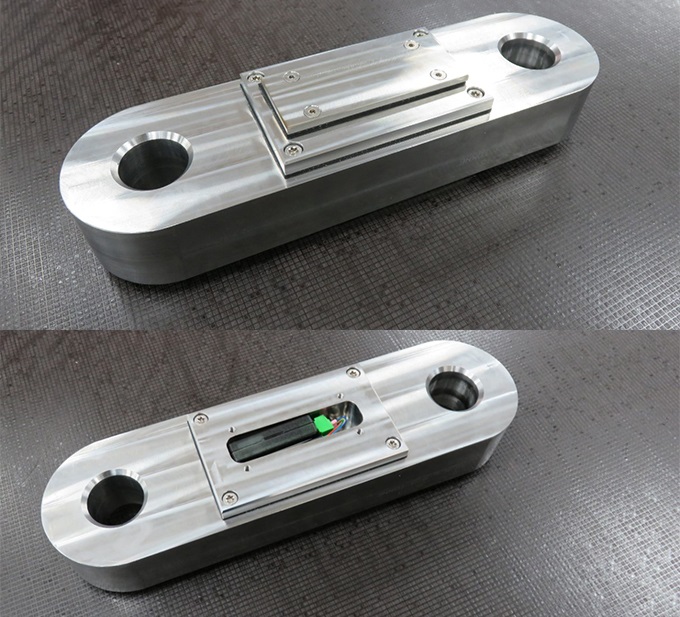 Datalogging Load Link
APPLICATION: Customer came to LCM to request for a load link that has built-in datalogging capability.
Rated at 9.5 tonnes, the load link incorporates a compact data logger that can be accessed via a removable cover for easy data retrieval. Data can be measured and recorded at specified intervals from once every 2 seconds to once every 12 hours depending on the application and project requirements, and can be saved in a format easily read by spreadsheets such Microsoft Excel.
SOLUTION: Offering accuracy of 0.6% of rated load and with environmental sealing to IP66, the load link has been manufactured from stainless steel, making it suitable for many arduous industrial environments.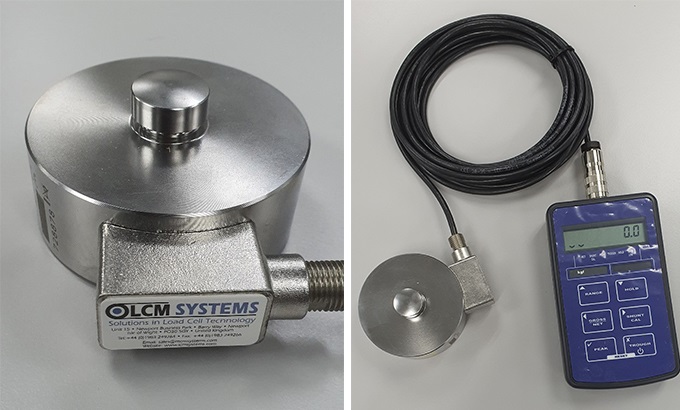 Simple Press Force Measurement
APPLICATION: Customer required a low cost solution to integrate force measurement into their hydraulic press machine, to do product proof testing. The CDIT button load cell is a low profile and high stability product that is easy to use with most hydraulic presses. Most capacities are also available ex-stock at our UK factory, with delivery lead time of approximately 1~2 weeks.
SOLUTION: In this scenario, customer chose to pair the load cell with the TR150 handheld display, which has peak hold, tare functions.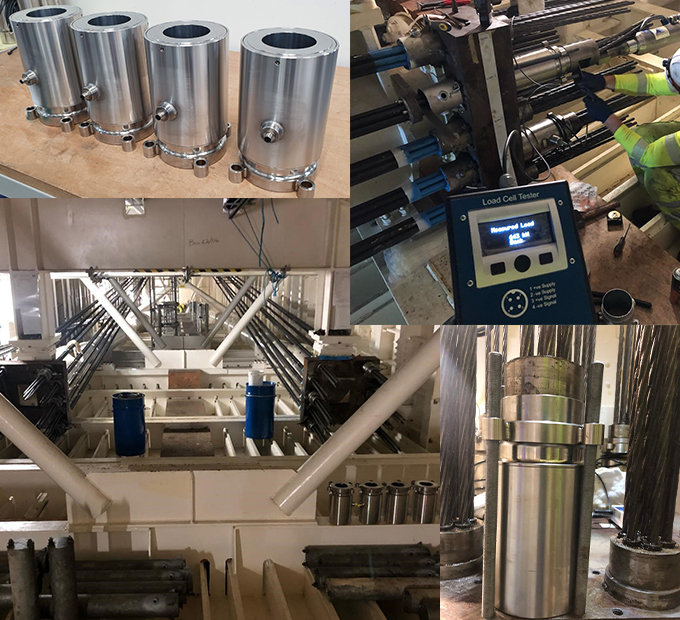 Annular Load Cells for Bridge Structural Monitoring
APPLICATION: 80pcs of custom built 2000kN stainless steel annular load cells are used on the Avonmouth bridge as part of Highways England's maintenance schedule.
Each load cell comes complete with four external fixings, has a accuracy of 0.3% of rated load and is environmentally sealed to IP67.
Following the completion of the de-waxing and load testing of all of the 80 number 7 strand 100m long post-tensioned unbonded tendons installed over the central bridge span.
The process involves de-tensioning the tendons at both ends at the anchorage plates, installing the new load cell and new locating shims plus re-tensioning up to full design load.
We then install a new wireless load cell monitoring system that will automatically send alert signal of any issues with the system.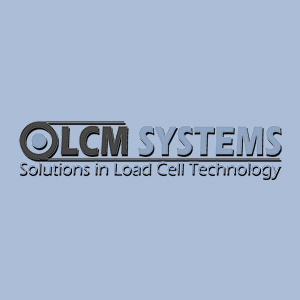 Aircraft Weighing
APPLICATION: Before leaving the factory, every new aircraft must have a weight and balance report as part of its required aircraft record. This report details the empty weight of the aircraft and the point at which the aircraft balances, also known as the centre of gravity.
Following delivery to the aircraft end user, the need for reweighing the aircraft might be required if the weight and balance report has been lost, if new equipment (such as a radio or global positioning system) has been installed or periodically as part of a quality procedure, given that nearly all aircraft have a tendency to gain weight over time due to repainting and the accumulation of dirt, grease and oil.
LCM Systems supply load cells that can be incorporated into an aircraft weighing system to both accurately weigh the aircraft and provide its centre of gravity. We can supply just the load cells or provide a display and instrumentation to make up a complete load measuring system. All our load cells are manufactured to the highest standards and are the prefect choice for an industry where safety and quality are of the utmost importance.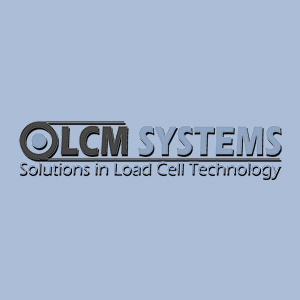 Airframe Testing
APPLICATION: All aircraft must undergo a complex, rigorous flight testing and certification programme. Only when fully approved and certified can the aircraft be cleared for service. Part of this testing includes structural static testing of the airframe, including maximum wing bending at full operational loading, spoiler and aileron function testing during maximum wing bend and fatigue tests which examine how the aircraft structure responds to stress over a period of time and during different stages of its operations, from take-off to landing.
To recreate these conditions a combination of loads is placed on the airframe and typically activated by computer-operated hydraulic jacks. Strain gauged load cells are incorporated to provide load measurement data on the forces being applied that is subsequently used by engineers for analysis and test result generation.
LCM Systems can provide a variety of load cells for airframe testing, many of which include integral amplifiers to provide an output compatible for direct integration with a PC for simple configuration and set up. Below is just a small selection of the types of load cell we supply for this application, but if you can't see what you are looking for make sure you get in touch, as we are always more than happy to offer advice and assistance.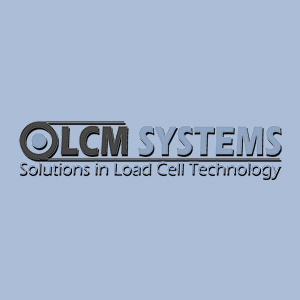 Anchor Line Monitoring
APPLICATION: Inspection of permanent anchor line moorings is particularly significant in the oil and gas industry for FPSOs, Semi-Submersibles, Spars, TLPs, SPM buoys and fixed platforms, where anchor line failure could lead to a spillage incident and put the safety of onboard personnel at risk. While limited measurements and inspection can be carried out by divers and ROVs, the most common inspection methods are simply visual, leading to the identification of sections of the mooring line that are showing signs of fatigue or over tensioning being missed.
The installation of an anchor load monitoring system can significantly improve operational safety by providing the vessel operator with real time data on anchor load tensions to give ongoing information on the integrity of the anchor mooring system. This allows preventative action to be taken in the event of anchor line loads exceeding predetermined limits.
LCM Systems can provide complete anchor line monitoring systems that include alarms to alert control room personnel that an over tensioning issue has been detected and remedial measures are required. Alternatively we can supply just the load sensor with signal outputs suitable for direct integration into existing vessel operating systems. Our systems can be installed in new mooring arrangements or retrofitted, and can consist of submersible load shackles or load pins installed in the mooring bridle/mooring assembly.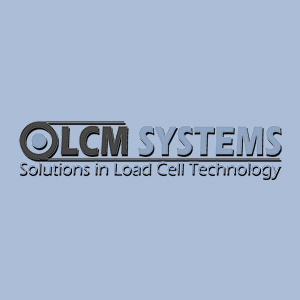 Automotive Component Testing
APPLICATION: Automotive manufacturers demand the highest quality components throughout their supply chain, and every component must undergo rigorous testing to make sure it meets stringent industry and legal requirements. This testing helps improve the performance, quality, efficiency and safety of vehicles coming off the production line and helps protect the motorists that end up driving them.
Performing product evaluations on components helps identify potential defects early on in the product development cycle, which has clear time and financial benefits to the manufacturer. These component tests can include tension, compression and bending strength, and are usually performed using a material testing machine.
LCM Systems offers a number of 'off the shelf' tension and compression load cells that can be used for automotive component testing. We can also design and manufacture a load cell to suit a specific requirement, as well as providing displays and instrumentation to make up a complete load measuring system. Our experience in this industry make us the ideal partner, and we are always on hand to offer advice and support on the best products for your specific requirement.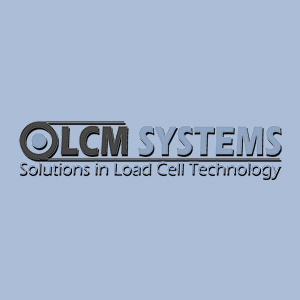 Bagging Machinery
APPLICATION: Bagging machinery is used to efficiently pack bulk product, which is fed through a feed system into a pan for insertion into final packaging. These machines dramatically increase workflow speed and decrease packaging costs, while simplifying bagging operations. Profit margins are also maximised with the correct amount of product being delivered every time, with no losses incurred due to over filling or time wasted because the process has to be repeated in order to add additional filling.
In order to fill the packaging to the exact selling weight, a method of load detection is required. This typically involves the use of strain gauged load cells that are mounted under the pan to accurately detect and verify the weight of the product prior to it being dropped into the packaging.
LCM Systems can supply a range of cost effective, high accuracy load cells that are ideal for this application. They also have high levels of environmental sealing to make them suitable for use in washdown areas and can be supplied with weighing assemblies if required. We also have a selection of displays and accompanying instrumentation for when a more sophisticated solution is required.