KARI LS90 -LÄMPÖSULAKE
Reliable security and protection unit when the temperature rises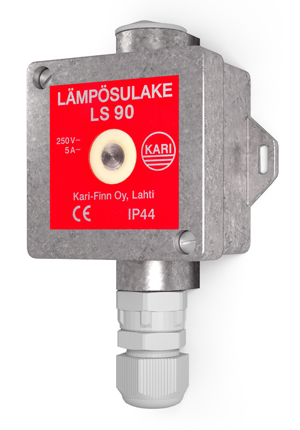 reliable protection solution based on heat of fusion
KARI -lämpösulake LS90 is a reliable safety and security device for applications where the temperature rise can cause serious equipment failures and the risk of fire. A typical example is the oil burner Institute, KARI LS90 which is installed in the vicinity of the burner. If the temperature rises above 90 degrees Celsius, the fuse alloy melts and breaks the electric current, so that the oil supply stops and the alarm sounds. KARI LS90 is a very reliable safety device, because it is based on fusion heat without the disorder susceptible to electrical sensors or complicated electronics.
Suitable for a variety of destinations and circuit breakers hälyttäjäksi
KARI LS90 is suitable for security and suojauslaitteeksi virtually all locations where the temperature may not rise above 90 degrees Celsius. It can be connected to the environment either by the mere sound the alarm or circuit breaker device, which is in a fault situation can not overheat, causing more damage to the equipment and possible fire. Such an error situation may be, say, the oil burner thermostat broken, so that the oil supply will not be able to control and burner overheats.
Ideal for a safety heating systems
KARI LS90 operates reliably in both large and small areas. Large oil burner installations, as well as oil-heated single-family houses in addition it is suitable for security and suojauslaitteeksi to other heating systems, such as natural gas and pellet systems.
Works with thunderstorms and other electrical disturbances
KARI LS90's reliability and uniqueness is based on the fusion heat. In this case, the identification of temperature increase is not needed electrical sensors or other electronics that are prone to go out of order, for example, lightning storms or other electrical disturbances.
Easy to install the main unit, regardless of the electrical solution
KARI LS90 is easy to install the hedged risk of overheating control circuit, which serves as the current pilot of the device without intermediate transformer. When the temperature rises and the mixture of metal melts, the control circuit is broken and the alarm circuit is triggered. The contacts must be one normally closed (NC) and one normally open (NO) contact, so KARI LS90 can always be connected in accordance with each device kosketintavan.
Fuse easy to change
KARI LS 90 installed in the protected device, such as in the vicinity of the burner. The installation must be noted that the ambient temperature does not normally rise above 40 degrees Celsius, so that the thermal fuse to operate reliably for a long time and to avoid false alarms. coupling box lid, so that it is easy to change the actual fuse is installed. Spare fuses are available as separate (type S90).