It measures the outer diameter of the object.
Laser Micrometer LDM series combines the Scanning Unit and the Display Unit according to the various application.
High-performance and low-cost measurement system can be constructed. In response to the voice saying "correspond to every outer diameter", from ultra thin diameter of 0.02 mm to large diameter of several meters, we have a range of models that correspond to every outer diameters.
Scanning Unit
Single Scanning Unit

Separate type

Two-axis Scanning Unit

Swing type Scannning Unit

Swing type Scanning Unit




(for Large diameter)
Features

A rich lineup will accommodate large diameters ranging from 0.02 mm to several meters.

There are also multi-directional coaxial type including orthogonal 2-axis type.

There is also a type of a full circumference measurement with swinging.

It corresponds to various installation places since there is a separate type.

Transparent objects can also be measured since there is no influence of external light such as sunlight.

It is possible to measure the object up to 2000 ℃ by option remodeling.

An

Air pur

ge unit is

also available as an option (for some models only)
Display
For single axis display LDM-130

For two axis display LDM-130EX

For single axis display LDM-110




(Discontinued product)

For two-axis display LDM-110EX




(Discontinued product)

For single-axis display LDM-210

For multi axis display LDM-1000EX

For multi-axis (maximum 5 axes) display LDM-1000
**
Various application can be applied by the function of the display unit.
Features

Supports CC-LINK(V2) (130/130EX Option)
Supports EtherNet / IP (130/130EX Option)
MODBUS-RTU(2 Lines)(130/130EX)
Able to read and write setting value with USB memory (130/130EX).
Supports RS-485 interface (option).
Instantaneous value display and calculation of maximum, minimum, average in normal measurement.
Calculation of average, difference, sum, ratio, flatness, etc. in multi-axis measurement.
Instantaneous value display and calculation of maximum, minimum, and average in full circumference measurement.
Large diameter measurement.
Sheet thickness measurement.
Measurement with multiple lines.
Measurement of average wall thickness.
Outer diameter control by combination with Dia. control unit.
Various control and data collection by combination with PC and PLC.
BCD output, RS-232C interface, analog output (BCD output is an option).
There are

Signal Extender (LDM-201, LDM-20

2)

that extend the connection cable to the Scanning Unit,

and




Signal Distributer (LDM-205, LDM-2

06).
Products applying Laser Micrometer
Outer diameter / deflection width measuring device (system)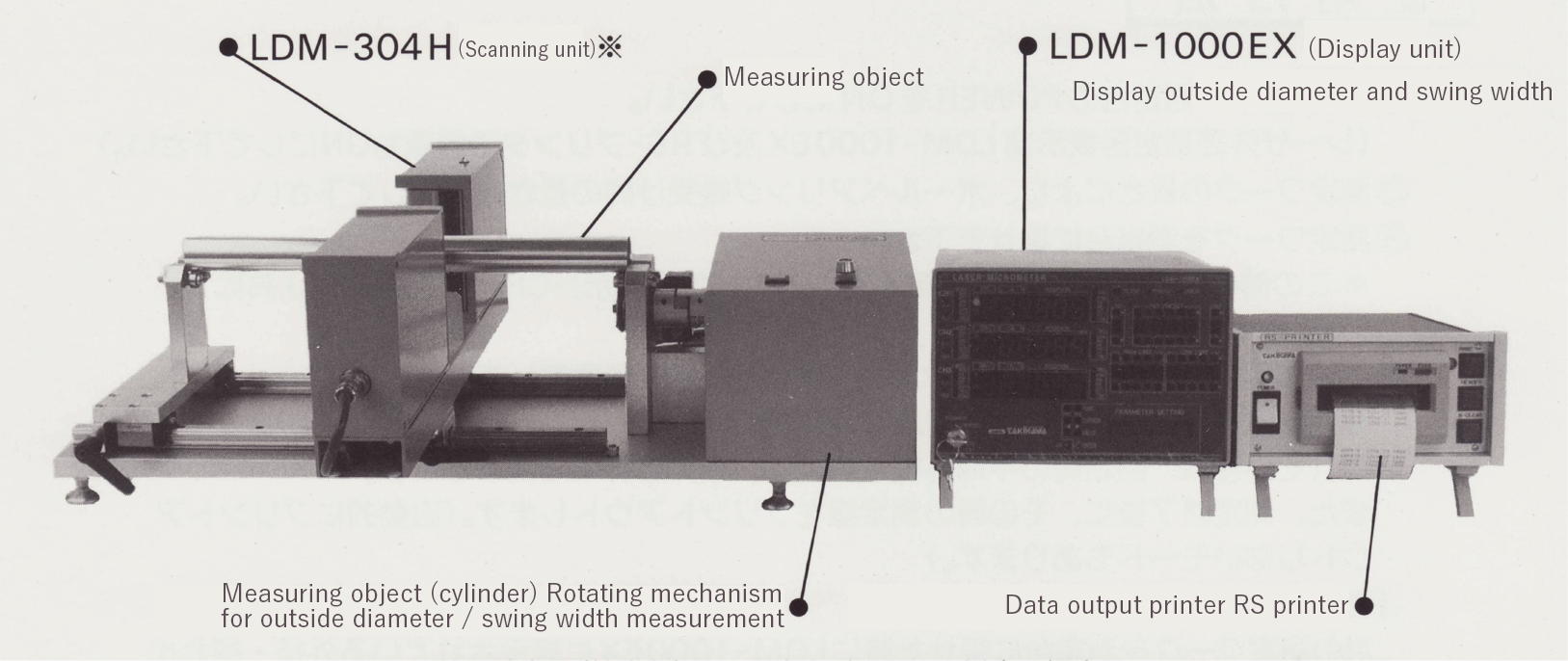 **
It is a system that puts a rubber covered roll, a metallic roll, the pipe, and the cylinder measurement thing such as Nodou goods on the measurement stand, rotates the measurement thing, and measures the outside diameter and the width of swinging, and outputs the result to the printer.
LDM-WTM / Pipe ・ tube outer diameter thickness measurement system (desk type)
(Build-to-order manufacturing)
**
A surrounding all thickness of meat is measured and the outside diameter in all surroundings of a cylindrical midair products such as the pipe, tubes, and the hoses is graphed on PC in real time and by automatically rotating the measurement thing by 360 degrees.