Orbit® Digital Probe Technology
With increasing market demand for miniturization of products, tolerences are tightened further and market needs for better improved higher accuracy higher performances supporting the new digitalisation world.

1994 Solartron Metrology developed its revolutionary Digital Gauging Probe giving enhanced LVDT transducer performance and the Orbit® Digital Measuring Network which removes the need for separate signal conditioning.

Orbit provides a complete solution for integrating different measurement devices, sensors and control smoothly and simply into network measurement- solutions.
Displacement Sensor and Gauge Probe Network | Orbit®

Ultra flexible network for Gauging and Linear Measurement
Contact and Non Contact Measurements
High speed measurements
Interfaces to Excel®
Orbit® Library – based on Microsoft .NET Framework
Windows® 10, 8.1, 7 in both 64 bit and 32 bit
The Orbit system architecture consists of a rugged mechanical design coupled with a high degree of electrical protection and excellent noise immunity, ensuring valid accurate data when it is needed.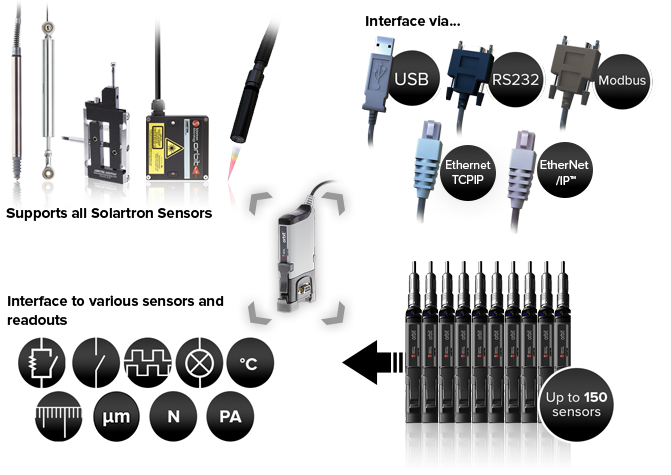 Calibrated System
Each Solartron probe or instrument is available with a digital module at the end of the cable. Inside the module is a chip that digitizes the analogue signal from the probe. The probe is calibrated and linearized at the Solartron factory, with a guaranteed accuracy of 0.05% of range or 0.2 microns, whichever is greater, 0.15 micron repeatability, and 0.01 micron resolution.
You can then master the probe anywhere over its measurement range, and attain the same accuracy from that master point. Solartron also offers a variety of calibrated non-contact laser sensors available.
The Orbit® 3 Network will also connect to 3rd party sensors via interface modules. These include:

Analogue Interface Module (AIM): Connect to any sensor with a DC or 4-20mA output
Encoder Input Module, (EIM): Connects with any rotary encoder or other device with a TTL output. With these connections, all readings can be sent to a PLC or PC seamlessly
Digimatic Input Module: Connects to any Mitutoyo gauge
Digital Input/output Module: An eight-pin module that acts as an I/O interface to a PLC
Network up to 150 channels
You then connect the Solartron sensor to almost any output device via Orbit®. The Orbit® network, now in its 3rd generation, Orbit® 3, is based on a proven and rugged RS485 multi-drop network running at 1.5m Baud. To build one, you stack any number of digital modules together via use of "T-connectors."