Kari-Finn Oy develops and manufactures KARI float switches, designed for the detection and control of waste water levels, liquids generated by industry, and liquids with varying degree of viscosity, in addition to liquids in wells, pump systems and tanks.
The KARI float switch is the world's most versatile float switch. Unlike the other products on the market, the KARI float switch comes with a four-point level switch. The KARI float switch not only serves as an alarm system for a pre-determined liquid level but can also be used to control the filling and emptying of a tank. You can set the threshold values yourself easily, with no need for any additional devices. The KARI switch is available in several models, covering a wide variety of purposes and applications. We are also happy to customise a float switch to meet your specific needs.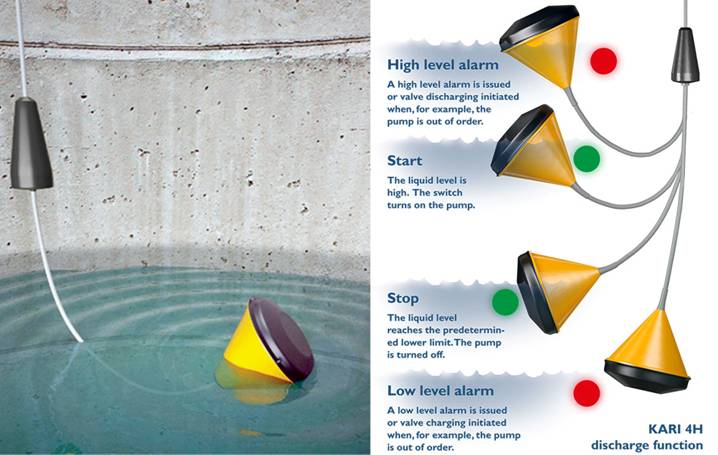 Description
Built Better
Kari Series float switches feature a high chemical compatibility, a stronger cable, and durable components that simply last longer than the competition.
Level Control
One Kari Series float switch can replace four single-level float switches. It can accomplish the same functionality with only one float, saving you money, avoiding tangles, and getting the job done.
Non-Toxic
Rest assured, these float switches use no lead and no mercury.