0.25kW - 132kW (0.33 hp to 200hp)
100 V | 200 V | 400 V
Commander variable speed drives have established the standard of excellence in motor control since 1983 when Control Techniques launched the first world commercial vector drive.

Since then, Commander has undergone several successful reiterations, each time bringing new technology and innovations to the world of automation.
The new Commander C series has been designed to be a simple and compact AC motor speed controller that meets advanced requirements in a wide range of applications and provides optimum user experience.
Commander C Highlights
✓ Set just 4 parameters to get your drive started
✓ Plug-in options for advanced control
✓ Dual Safe Torque Off (STO)
✓ Equipped with the latest energy saving features
✓ Up to 180% overload for high torque applications
✓ On board PLC
✓ Straightforward installation and commissioning
✓ Easy motor pairing and performance control
✓ Robust and reliable design
Simple set up. 3 steps to control
Setting up a drive can require training, specialist knowledge and time.
Not with Commander C: it will get you up and running, from out of the box to controlling your motor, in minutes.

Three simple steps will set up your drive for most fan, pump, compressor, conveyor and general purpose applications!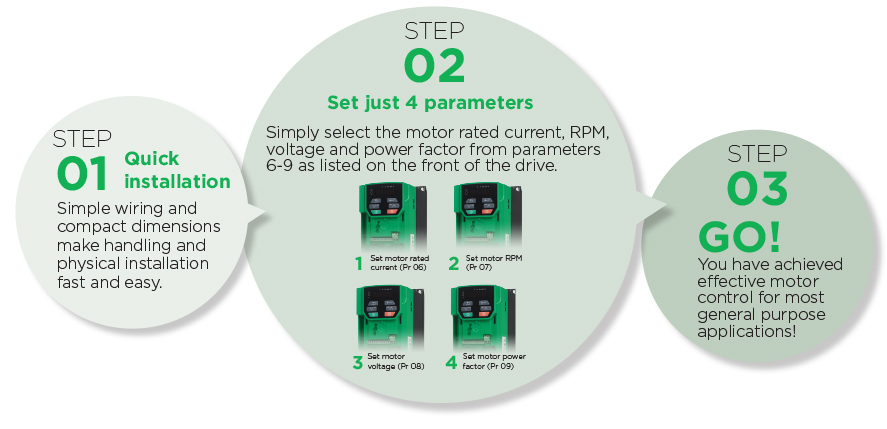 Remote Keypad RTC


The keypad is remote mountable, allowing flexible mounting on the outside of a panel (meets IP54/NEMA 12). Three line plain text, multi-language LCD keypad for rapid set-up and helpful diagnostics. Battery operated real-time clock allows accurate time stamping of events, aiding diagnostics.

Remote Keypad


Remote mountable, intuitive plain text, multilingual LCD keypad for rapid set-up and superior diagnostics (using the AI-485 adaptor along with a comms lead). Rapid and secure panel fit with 1 x 32mm hole rated to IP66 (NEMA 4).
System Integration Modules - Communications
SI-PROFIBUS


SI-PROFIBUS interface module enables follower connectivity. It is possible to use multiple SI-PROFIBUS modules or a combination of SI-PROFIBUS and other option module types to add additional functionality such as extended I/O, gateway functionality or additional PLC features.

SI-DeviceNet


SI-DeviceNet enables follower connectivity. It is possible to use multiple SI-DeviceNet modules to provide additional functionality.

SI-CANopen


Commander C's SI-CANopen interface module supports various profiles, offering optimum flexibility.

SI-Ethernet


SI-Ethernet can be used to provide high speed drive access, global connectivity and integration with IT network technologies.

SI-EtherCAT


SI-EtherCAT allows Commander C general purpose drive to connect and interface with EtherCAT networks.

SI-PROFINET


SI-PROFINET allows Commander C to communicate and interface with PROFINET PLCs and networks.
System Integration Modules - Additional I/O
SI-I/O
Extended I/O interface module to increase the number of I/O points on a drive. Provides additional: 4 x Digital I/O, 3 x Analog inputs (default)/Digital inputs, 1 x Analog output (default)/Digital input, 2 x Relays.
Optional Accessories
AI-Back-up Adaptor


Port adaptor for SD card parameter cloning, and an input for 24 V back-up.

AI-Smart Adaptor


Has a built-in memory for parameter cloning and an input for 24 V back-up.

AI-485 Adaptor


Adaptor that allows the drive to communicate via RS485.

AI-485 24 V Adaptor


Adaptor with 24 V input.

RS485 Cable


The USB comms cable allows the drive to connect to a PC for use with Commander's PC tools.