500 kW High Power Drive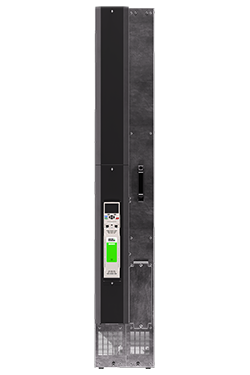 315 kW to 500 kW | Up to 865 A | 380 to 480 VAC (± 10%)
with 110% Overload
You loved the smaller ones. Here's the big one.
While low power accounts for most of the growth for variable speed drives, energy-saving applications are driving growth in high power drives.

Fans, pumps, compressors and extruders are common uses of drives that increasingly need a higher power option.
Light weight, but no light weight!
Enter the new high power drive, which not only offers 500 kW of power in a single module, but at 130kg is up to 60kg lighter than competitors drives.

Its small footprint and pre-engineered accessories make it easy to install or retrofit in industry standard cubicles.
A choice of control module options
This 500 kW drive can be fitted with a Unidrive M600/ M70X or Pump Drive F600 control module and has a wide range of accessories available for easy installation.

Alternatively, the frame can be provided pre-assembled in its own industry standard cabinet, with user-selectable system components included.

This is the ready to use DFS series free standing version.
Installation and servicing

A

single installer can handle wiring and connection

using comprehensive accessories.

Under 30 minutes for one engineer

to replace the drive using service accessories.
During service, factory-tested

sub-assemblies can be exchanged

on site without having to replace the complete drive.

Wider front face design & lower centre of gravity

provide greater physical stability and safety during installation.
Always

smaller than an existing drive when retrofitting,

so will always fit space available.

Fixed lifting points on the chassis

(no additional brackets required) for safe handling.

No additional chokes are required

for the vast majority of applications.

Online diagnostic app

aids commissioning & user support.
Controls, communications & configuration

Renowned Unidrive AC motor control extended up to 500 kW in a single power module.

Optimised for the key high-power drive applications of fans, pumps, compressors and extruders.

As powerful as any other drive on the market, yet very light and easy to handle.

All leading industrial communications protocols supported, on-board as standard or with user fitted options.

On-board machine control, open programming architecture and safety features.

User-connectable 12-pulse operation as standard for supply current harmonic reduction.

Enhanced IGBT protection during short circuit protects against external fault conditions.

Novel capacitor bank protection provides enhanced reliability and increases up-time.
Specifications

Drive Ratings

Model

No Overload

Normal Duty

Heavy Duty

Maximum
continuous
output current
Nominal
power at
400 V
Maximum
continuous
output current

Peak current

Nominal power
at 400 V
Maximum
continuous
output current

Peak current

Nominal power
at 400 V

A

kW

A

A

kW

A

A

kW

M000-12404800T

635

315

608

668

315

480

528

250

M000-12405660T

689

355

660

726

355

566

792

315

M000-12406600T

788

450

755

831

400

660

924

355

M000-12407200T

903

500

865

952

500

720

1008

400

Internal 125 kW brake chopper included as standard

Dimensions

Width 295 mm, Height 1750 mm, Depth 526 mm
Drive Software & Support

Intuitive commissioning software

Connect - Commissioning tool

Based on Control Techniques' 25 years' experience, Connect is our latest drive configuration tool for commissioning, optimizing and monitoring drive/system performance.

DOWNLOAD

Advanced machine control

Machine Control Studio - Programming tool

Control Techniques' Machine Control Studio provides a flexible and intuitive environment for programming new automation and motion control features.

DOWNLOAD

Diagnostics Tool

Diagnostic Tool

Diagnostic Tool is a fast and simple tool, which allows users of Control Techniques' drives to quickly solve any error codes that the drive may show.

DOWNLOAD

Drive Setup

Drive Setup

Free access web pages provide 'how-to' videos, step by step guides and comprehensive technical manuals for your drive installation.

WWW.DRIVE-SETUP.COM