Displacement Sensor and Gauge Probe Network | Orbit®
Introducing the Solartron Orbit® Network: a digital measurement system that makes it simple and easy to inter-connect high accuracy Solartron instruments, and other sensors to your computer, network or PLC.
Conventional LVDT gauging is taken to another level by the Orbit® Digital Measurement System. Proven in real industry where dimensional measurement is critical to quality the Orbit system allows simple connection of probes with high speed data collection. Orbit is combined with Solartron Gauge Software for simple, rapid data collection and display of measurements.
The Orbit® digital displacement and gauging sensors combines the proven reliability of LVDT type sensors with increased performance. Through a process of continual development Solartron has improved the LVDT resulting in a gauge probe that is both accurate and extremely robust while offering excellent value.
Orbit is not just about LVDT type sensors, Solartron offer many other Orbit products that allow 3rd party sensors to be easily integrated to form a measurement system, for example LVDT type gauge probes can be combined with rotary encoders to allow profiling of components such as crankshafts.
Higher performance does not mean higher costs. Quality standards in industry and research are becoming tighter, while demands for cost savings continue to increase. Orbit® provides the way forward for all precision measurement or positioning needs, on the production line or in the laboratory. The Orbit® system architecture consists of a rugged mechanical design coupled with a high degree of electrical protection and excellent noise immunity, ensuring valid accurate data when it is needed. Orbit® processes and transmits clean, repeatable data from sensors at high speeds of up to 3906 readings per second.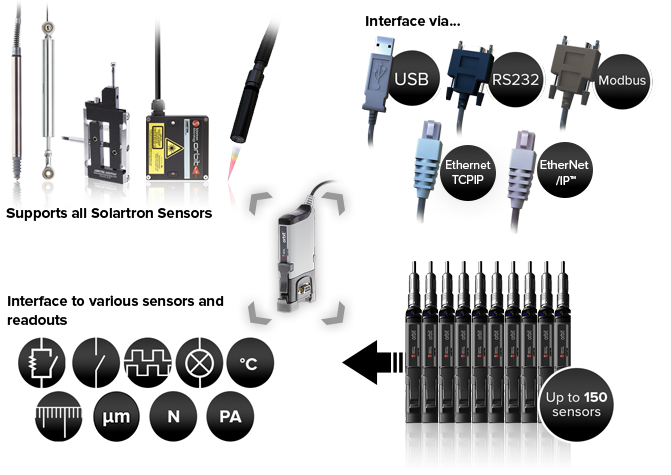 Ultra flexible network for Gauging and Linear Measurement.

Contact and

Non Contact Measurements

High speed measurements
Interfaces to Excel®
Orbit® Library – based on Microsoft .NET Framework.
Windows® 10, 8.1, 7 in both 64 bit and 32 bit
Calibrated System
Each Solartron probe or instrument is available with a digital module at the end of the cable. Inside the module is a chip that digitizes the analogue signal from the probe. The probe is calibrated and linearized at the Solartron factory, with a guaranteed accuracy of 0.05% of range or 0.2 microns, whichever is greater, 0.15 micron repeatability, and 0.01 micron resolution.
You can then master the probe anywhere over its measurement range, and attain the same accuracy from that master point. Solartron also offers a variety of calibrated non-contact Laser sensors available.
Connect to other Sensors

The Orbit® 3 Network will also connect to 3rd party sensors via interface modules. These include:

Analogue Interface Module (AIM): Connect to any sensor with a DC or 4-20mA output

Encoder Input Module, (EIM): Connects with any rotary encoder or other device with a TTL output. With these connections, all readings can be sent to a PLC or PC seamlessly
Digimatic Input Module: Connects to any Mitutoyo gauge
Digital Input/output Module: An eight-pin module that acts as an I/O interface to a PLC

Network up to 150 Channels

You then connect the Solartron sensor to almost any output device via Orbit®. The Orbit® network, now in its 3rd generation, Orbit® 3, is based on a proven and rugged RS485 multi-drop network running at 1.5m Baud. To build one, you stack any number of digital modules together via use of "T-connectors."
PC Based Solution
| | | | |
| --- | --- | --- | --- |
| USB 2.0 | Ethernet | Bluetooth | RS232C |
| 12Mbps | 10/100Mbps | 3 Mbps | 115.2Kbps |
| | | | |